---
Gecko (Spring 2015). As a legacy project, the 2014-2015 Grade 11 TEI3Mers created this wildly successful clock/calendar. R. Saunders (RSGC '15) did most of the in work whippping the board into shape. Follow the link to learn more about this amazing little device.
---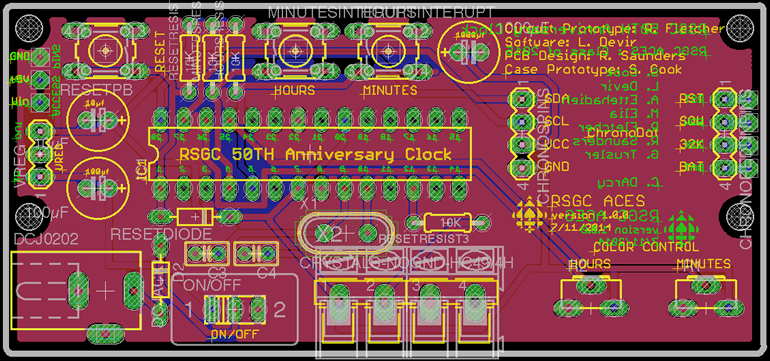 ---
Astable Multivibrator. G. Trusler (RSGC '15) made up a custom batch of these cute little guys for the Fall '14 TEL3Mers. For the Hallowe'en tradition to continue inventory had to be replenished.
---
Breadboard Power Adapter. Designed by P. Bagga over the Christmas Break 2016/17, these little babies have become quite handy in the DES!
---
In-System Programmer Breakout Board. This board is used to flash standalone AVR microcontrollers on a breaboard using our Sparkfun Pocket programmer.
---
Scrolling Message Board. Every self-respecting DES has a scrolling message board. O. Logush (RSGC '18) agreed to take on the project as a Grade 10 exercise. Three attempts were required to get the module board working the way we liked it (the first two batches are serving their coaster duties well). After a few months in service, the display started developing glitches. Our belief is a build up of charge/EMF so we swapped the MAX7219s for MAX7221s to try to alleviate the problem. We'll see...
---
Breadboard ATtiny85 ISP. To alleviate the hassle of wiring our earlier ISP breakout board, this device is conveniently-placed over top of the ATtiny85. P. Bagga suggested the use of female stackable header pins to make prototyping even faster. Good call, unfortunately, 4-pin stackable headers were hard to find but, in the end, a slow boat from Taiwan delivered 200 units :)
---
Pulse Counter v1. (Dec-Jan 2016-17) Inspired by a need to count pulses from Timer1 Compare Timer Match Mode in Assembly over the 2016-17 Christmas break, I designed the board below. Two switch-selectable sources (external and on-board 555) provide digital pulses to a pair of 4026 counter/decoders. For numeric output, the LB-602MK2 dual 7-segment display block was employed.
Design Decisions. The precise dimensions (and hole placement) of the Gecko was retained, in case a front plate was desired for the device. Right angle pin headers in the external source will allow the board to stand upright on a breadboard.
---
Breadboard Power Adapter. A revision of the his earlier DC Jack adapter by P. Bagga in February 2017 included a 1206 surface mount LED and resistor for power indication.
---
Traffic Light. The result of J. Schaffer's introduction to EAGLE in February 2017 yielded this simple, but effective, traffic light circuit board.
---
Shift Register-Bargraph. The result of T. Morland's introduction to EAGLE in February 2017 yielded a circuit board that can be used to develop students' facilty in the use of shift regsiters and as a visualization device for a wide range of sensor projects.
---
Automatic Night Light. An ACES' version of the Automatic Night Light circuit board was create in February 2017 to support both the Grade 6 and Grade 10 coursework
---
Flex PCB. SMD Matrix. O. Logush (ACES' 18) went all in and designed, ordered, and assembled this 64 LED Matrix flex circuit board. Components were soldered using the DES' Aoyue 968A Hot Air Rework Station. Here's the Flex Matrix in action.
---
Grade 5 BCD Decoder. In preparation for the session with the Grade 5s in November 2017, we set out to develop a device that the students could use to associate binary input with decimal output. E. Peterson arranged to have the boards manufactured through Dirty PCBs.
---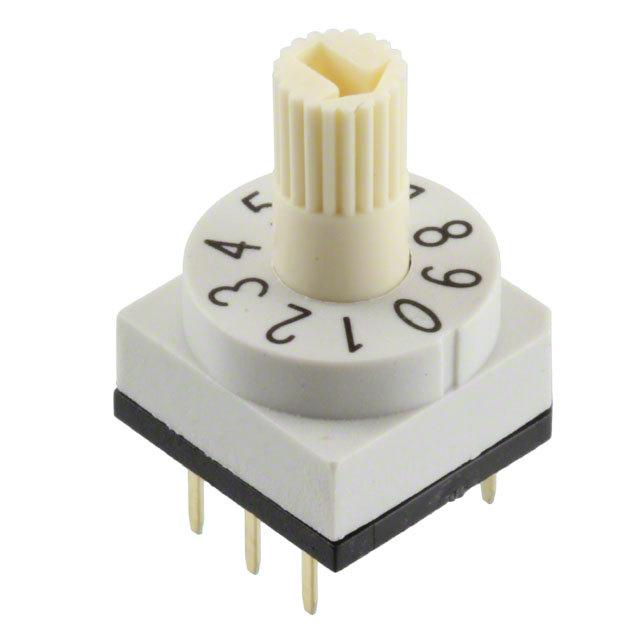 Grade 5. Fergus Fidget Logic Trainer. Coming Soon...June 2018)
Rotary DIP Switch Encoder - Wurth Electronik
| | |
| --- | --- |
| | Coming soon... |
---
Grade 11 Matrix Equalizer. Dirty PCBs was called on to manufacture the boards for the Matrix Equalizer PCBs (developed in January 2018) intended for use for the first time in the 2018-2019 Grade 11 course.
---
Gecko II. A 2018 upgrade of the classic 2014 model.
| EAGLE Board | Dirty PCBs (Rendered Image @ Order) | Soldered & Functioning Device |
| --- | --- | --- |
| | | Coming Soon |
| EAGLE Board | Dirty PCBs (Rendered Image @ Order) | Soldered & Functioning Device |
| | | Coming Soon |
---
Astable Multivibrator v3. Having finished the first batch of 100, replacement order to Dirty PCBs for 300 slightly modified units was placed in April, 2018. Terminal blocks replaced the two previous LED positions to allow for access to the square wave output.