Independent Study Projects. Please read our overview on why ACES pursue Independent Study Projects so vigorously.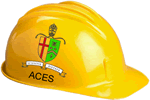 To my mind, the characteristics of a great project include such aspects as imagination, creativity, a degree of risk and, sometimes, even simplicity, to name a few. Check out the flashlight circuit 'board' this guy made out of little more that a piece of paper and a pencil? Simple, but inspiring. Consider a problem that needs a solution. Boyan Slat did at age 17 when he was in high school; four years later he is

cleaning up the world's oceans. (Update: January 9, 2019) So, dig in, think, dream, research, and explore possible project pursuits. Be discerning: don't accept the first thing that comes along. You'll be expected to maintain the progress of your ISP on your web page to enable everyone to follow your efforts so have your phone handy to at all times to capture the images of your journey. Be conscious of the fact that a multi-page summary of your project will appear in your ER after Presentation Day for more permanent record of your efforts. You may wish to take into account the ISP Evaluation document that will be applied on your Presentation Day.

Also, don't underestimate the value of an enterprise/entrepreneurial aspect to your project that could see a number of units of your project in the hands of future ACES, for sale in the Dragon's Lair or beyond, reaching an even a broader audience.

Short ISP Selection

Proposal Form (Word): Short ISP Proposal with Design
Atkinson, S.

ACES' Gecko Reboot


HARDWARE: The ACES Gecko will take the old, outdated Gecko and create a modern version that is smaller, sleeker, and uses SMT parts. The same ATmega328p will be used but, the reboot will feature an SMT version. The ATmega328p will be programmed using working ISP headers, as well as have all the necessary conditioning resistors. The goal with the updated hardware on the Gecko is to create a smaller design that looks closer to a finished product........
SOFTWARE: Arguably the most important part of the updated Gecko is a complete software update. The device will feature a new alarm feature which will require an easy to use UI for setting it. The device will also need to display various pieces of information in a sleek way......
DESIGN: First, the device will feature a custom PCB. This PCB will bring all the parts together as well as bringing the device closer to the previously mentioned production quality. Next, like the old gecko, the front of the device will have a piece of acrylic allowing for users to see the display. Finally, to bring the device even closer to a production like quality either nice standoffs will be printed or a case will be printed.

??


Description:

???


Description:

????


Description:


Bizzarri, P.

EL Wire/Panel Controller/Inverter


HARDWARE: The hardware aspect of this project is most likely going to be the most intense part. The core of this project, building an inverter circuit, is done almost exclusively using hardware components and techniques. Building this inverter will require an understanding of comparators, MOSFETS, and a deep understanding of the relationship between AC and DC power. All of these topics fall under the hardware domain and therefore this project will require and help foster advanced hardware skills....


SOFTWARE

: The software aspect of this project will mostly entail the creation of various types of waveforms. Triangle, sinusoidal and square waves are all required in an inverter, and these will all be created using code and the Arduino Uno. Also, if the inverter is successfully built, software techniques will be used to control multiple inverters at once so that a user can turn on and off specific EL wires on command.....
DESIGN: The design aspect of this project will be the creation of a possible PCB and case for the final inverter. I will use my previous knowledge of EAGLE and CAD to construct both items, using the prusa's to print the case. If I end up not finishing the inverter in time to create the PCB, I will also incorporate design principles in the construction of the breadboard inverter circuit (make it aesthetically pleasing and use space efficiently).
??
Description:


???


Description:
????
Description:


Goldman, A.

SMT 555 Breakout Board


HARDWARE: The hardware portion of this project encompasses the circuit design reflected on the PCBs. The 555 Timer, combined with external components, such as capacitors, resistors, and potentiometers, is what generates the clock signal that is desired from the breakout board. This project features multiple boards, specially designed for different RSGC ACES scenarios. One features an adjustable frequency and duty cycle with the adjustment of potentiometers, and one is very tiny for compact circuits, with a preset frequency and duty cycle. Specially designed PCBs for breadboards and the Arduino Uno ensure there is a breakout board for every potential ACES project.......
SOFTWARE: Various software examples demonstrate the capabilities of the different breakout boards. The visual nature of the examples helps demonstrate to ACES the uses and characteristics of the various 555 Timer signals that can be generated. These examples show what the meanings of duty cycle and frequency are, and how they can be altered by changing the components of the external circuit connected to the 555 Timer to achieve the desired clock signal characteristics......
DESIGN: Design is crucial in this project. The PCBs are designed in EAGLE with the ACES program in mind. Each PCB is thoughtfully and specifically designed for different potential ACES projects. Special care is taken to ensure the layout of the PCBs are convenient for breadboarding and use with the Arduino Uno, with easy ways to use the breakout board without it consuming too much project real estate. The preset signal boards, with their tiny size, can be used in projects where space is a major concern. The use of SMT and careful design ensures that the boards are as compact as possible, without sacrificing functionality.


??


Description:


???


Description:
????
Description:


Robertson-Caryl, L.

74LS181 ALU Shield


HARDWARE: The ALU shield is primarily a Hardware oriented project that attempts to display the logical and arithmetic capabilities of the 74LS181 ALU chip. This integrated circuit will be paired with a series of simple components to perform sixteen possible logic operations or sixteen different arithmetic operations on two 4-bit words/operands. These "words" will be inputted using switches on the device as well as the desired operation. Sixteen LEDs divided into four groups will represent the states of A operand bits, B operand bits, operation bits, and the 4-bit result of a given logical or arithmetic operation. Three separate LED's will act as indicators displaying to the user what mode the ALU is in (logic or arithmetic), how the operands compare in value (A=B), and if the result of a function is greater than 4-bits (carry output). Two switches will allow the user to toggle with the ALU's mode and carry-input. The circuit's entirety will be housed on a PCB, compatible as a shield with the Arduino UNO......
SOFTWARE: The ALU is limited in software usefulness as it provides 1970's computing to a modern microcontroller, which has inordinate arithmetic capability in comparison. However, the PCB's shield components will allow the Arduino to access the ALU's inputs and outputs. A simple program will be designed that enables a user to test the ALU's operations and view its results......
DESIGN: As previously stated, the project will be housed on a PCB. The current ACES's ALU is likely to be faulty, so a new board will be designed in EAGLE to accommodate design changes and fix any wiring errors. These new design changes will revolve around making the ALU compatible with Arduino programs and pins.

??


Description:


???


Description:
????
Description:

Shibley, J.

SHiB181 ALU


HARDWARE: Digital Logic chips are used to create a combinational logic circuitry that replicates the internal structure of the 74181 ALU chip. The internal structure of the circuit is monitored by LEDs displaying various internal and external outputs. 7400 Series ICs will be used throughout the project to maintain compatibility with the rest of the CHUMP project.....
SOFTWARE: While no software is directly used in this project, the combinational logic circuit will be explained in depth by breaking down the various subsections of the circuit. This will result in the explanation of various boolean functions, which can also be used in software programming.....


DESIGN

: Once the design has been prototyped on a breadboard, it will be transferred to a printed circuit board. This board will be designed on EAGLE. This board is compatible with Liam Robertson-Caryl's ALU Explorer and the CHUMP project.

??


Description:


???


Description:
????
Description:

Vretenar, J.

CNC-Milled CHUMP Case


HARDWARE

:  There will not be much hardware in this project as it is mainly design...


SOFTWARE

: There will be no programming as this is mainly design....
DESIGN: I will be exploring different CNC programs and will also be designing a case/display case for the ABRA 48 breadboard which we will be building our CHUMP on. This case will be milled out of wood, and would be used as a case to hold and even help display the CHUMP that we will build.

??


Description:


???


Description:
????
Description:

RSGC ACES (CHUMP):
74LS181 ALU Explorer

RSGC ACES (CHUMP):


AT28C16 EEPROM Burner

RSGC ACES:


MSGEQ7 Software Library

RSGC ACES:
SMT Tester

3D Design and Printing


PRUSA MULTI-COLOR

3D Design and Printing


ENCASEMENT

ARM Cortex-M7 @ 600 MHz:


Teensy 4.0

SMART TWEEZERS



Soldering


SMD REFLOW OVEN

Soldering


SMD HOT AIR

Mechanical


NICHROME HEATING

EL WIRE/PANEL

>



RTC+MSGEQ7


DES Day/Equalizer

JLCPCBs SMT


SMT Assembled PCBs

JLCPCBs SMT


Gecko Reboot

Spring ACES 11 Project


Mint Tin Matrix





JLCPCBs THT (onboard SMT LED)


555 Breakout Board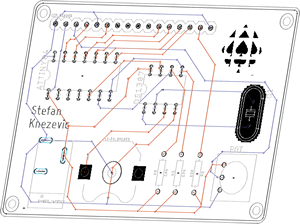 As you wind up the final two terms of your secondary education it is time to both advance and lock in your burgeoning engineering skills. Whereas through-hole technology (THT) has had a good run over the past few decades, the future is Surface Mount Technology and Design. For this reason, you best be prepared. This ISP round you will refine your SMD and CAD skills to showcase your Design skills in preparation for the opportunities that await you in the next few years.
Your Medium ISP goal (20% of your final mark) should include the slimmest of useful DES devices consisting of a custom PCB, populated with SMT parts, and encased or hosting (Truth Be Told, Mastermind) 3D printed components in the thinnest form possible (think wallet-size proportions). You have two months. Our 3D Printing TAs, and either JLCPCB or DirtyPCBs are all about to get a serious Sr. ACES workout.
Should you be stuck for a meaningful project, consider a DDPv6 Legacy Shield to complement or replace the ones we already have (Intersection, ADC, Universal v1 or Universal v2). The only stipulation I impose is that these devices must remain compatible with our current EAGLE DDPv6/Shield files.
Download and review the updated Medium ISP Proposal. This Word version I would ask that you edit, attach, and email on Saturday January 23, 2021 under the Subject Line: Medium ISP Proposal.
Long ISP (THT and/or SMT, Fixed or Flex)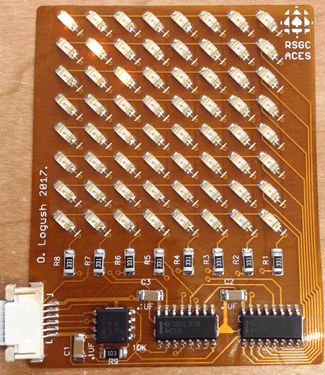 Electronic control over your final ACES ISP must be in the form of custom PCB populated with either through hole and/or surface mount components. In the case of the latter, you can consider taking your design to the next level, in the form of a Flex circuit that will be laminated into a page of your DER. If your circuit proves fully functional a flexible 3.5V, 150 mA Powerfilm solar cell will be included in the lamination so that that viewers of your creativity will marvel at when shown the light of day!

The Flex Circuit concept was first introduced into the ACES curriculum in the 2015/2016 TEI4M year with some impressive results. Where the attempts since have failed is whren the designer becomes too ambitious. If you choose this route, I require that you keep it SIMPLE. (LEDs and resistors only?) Your Medium ISP requirements provided you with valuable experience that should improve your likelihood of success as will be a small project this term that requires the use of the ACES ATtiny85 SMD Trainer. The examples below are too ambitious for us but each offers a unique feature you may wish to consider,
Download and review the updated Long ISP Proposal. This Word version I would ask that you edit, attach, and email to on Satruday April 3, 2021 under the Subject Line: Long ISP Proposal.
For the bulk of your formal education you have been, and will continue to be, required to consume curriculum chosen for you by someone else. Fortunately (hopefully) you will put this knowledge and skill to good use in your future. However, jumping through someone else's hoops alone does not, typically, secure future success. For that, you must demonstrate your own initiative, motivation, and passion. These qualities need to be cultivated and our Grade 10 hardware course is a perfect place to start. There is so much to learn and there are so many great projects out there that offer stimulating contexts within which to develop and refine your interests.