2014/15 TEI3M ACES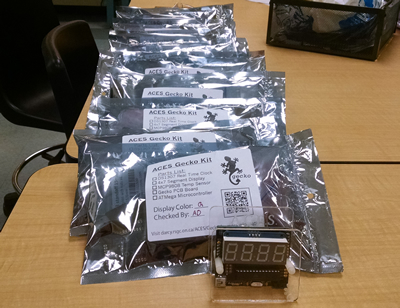 The 2014/15 TEI3M ACES is a group that encourages critical thinking and problem solving skills in the form of Computer Science and Technology Interfacing. The ACES Studio provides a space to tackle projects of varying difficulties. Some examples of projects we have undertaken are:
Kitchen Timer
Audio Equalizer Visualization
Breadboard-compatible Variable Power Supply
The ACES gecko
The most recent project, the Gecko, has grown into something larger than we ever expected. With the help of
Communications Technology
and
Business
Departments, we have been able to put our product into an actual market. This is the start of a revolution of collaboration in RSGC, and it starts with the Gecko.
Within our doer/maker culture students engage in the pursuit of knowledge as a natural requirement for achieving their projects' goals. Imagination, collaboration, and resilience are additional skills that develop rapidly when students take control of their own learning within a structure of support and accountability.