DDB Shield. TBD...
---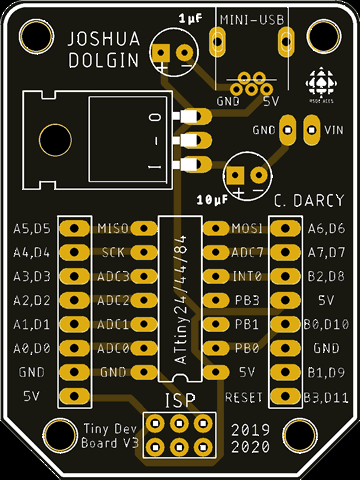 Dolgin Development Board. J. Dolgin (ACES' 20) continued the ACES commitment to excellence by developing a compact AVR development board based on the ATtiny24/44/84 MCU suite for his Grade 11 legacy PCB project. This board will serve as a substantial contributor to the exploration of advanced MCU hardware, software, and design pursuits in this year's Senior ICS4U curriculum.
Design files for this device (.sch, .brd, and .f3d) can be downloaded for personal use from,
https://github.com/rsgcaces/AVROptimization/tree/master/DolginDevelopmentBoard
To be continued...
---

GB Machine. The greatest challenge (and honour) for ACES is to influence the direction of our program. Through your imagination and skill you are expected to contribute to the enhancement of our mutual creativity, tool set, and assets. G. Benson (ACES' 19) fulfilled this opportunity/commitment through his enhancement of the indispensable PB Machine (P. Bagga, ACES '17). Beginning in the Fall of 2019, Grade 11 and 12 ACES will be expected to solder up their own GB machine and put it to good use in the pursuit of their own prototypes.
Your experience with electric circuits has been largely limited to components that use through-hole technology (THT). To round out your proficiency with all components, your next few projects will require the use of devices that use surface-mount technology (SMT). As the graphic reveals, the smallest size that is reasonable for hand-soldering techniques is the 1206 family, so this is what we carry in the DES inventory.
Task.
G. Benson (ACES '19) redesigned the RSGC ACES DC Power Jack developed by P. Bagga (ACES '17) to include an optional power LED and resistor. You will be given a small parts kits that includes the PCB, a THT DC Power Jack, and a 2x3 male header pin. You can choose your 1206 SMT LED colour from our inventory of red, green, blue, or amber and your 1206 resistor from our inventory of 330Ω, 1kΩ,or 10kΩ.
Component Distribution ( don't lose 'em :) PB's SMT Soldering of his DC Breakout Board (far too much solder paste on the resistor)
Using a digital soldering station for the THT components and either of the AOYUE 968 Hot Air Rework Stations for the SMT parts, assemble your DC Power Jack.
Submit your device to Mr. D before the indicated deadline.
---