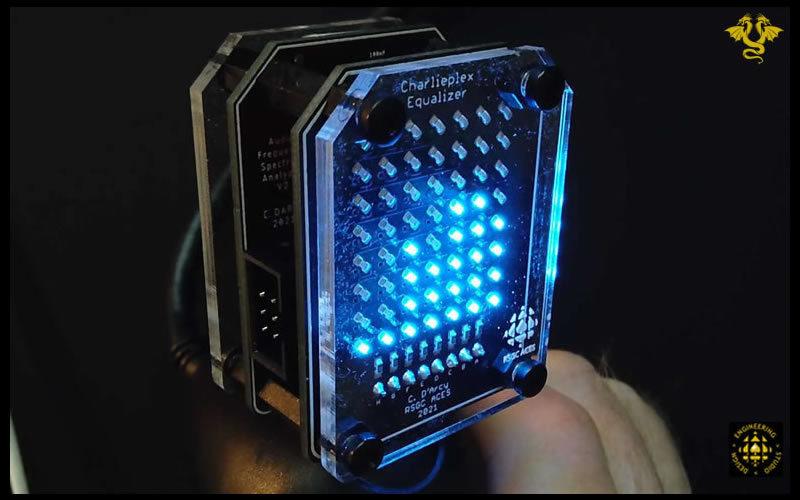 The latest entry in the RSGC ACES' long and fascinating relationship with LED display circuitry is the Charlieplex Equalizer/Messager. Recent hardware, software, and design advances within our program led to the creation of this representative device. The domain details of the project are summarized below.
One aspect of the project I found interesting was the USB power/charger cubes that were sourced and tested. I went through a number of options from Amazon and had to return a number of styles because they were simply too noisy. This characteristic is clearly not something most users care about (judging by their Amazon reviews) but the upper range of the frequency spectrum the onboard Mic and MSGEQ7 IC picked up, contaminated the display. This shortcoming surely curtails their efficiency. Again not something one is likely to read in feedback, but it should be a concern to everyone, given the state of the planet.
By way of example, two video clips are provided below that highlight the noise levels of two chargers. In the first video (this one is not recommend), you can see the high frequency noise picked up by the microphone in the over 6 kHz range for this unit,

Video clip #1 (The Spencer Davis Group, Gimme Some Lovin')
In the second video (this one I do recommend), the acoustic data suggested better filtering,

Video clip #2. (Canned Heat, Dust My Broom)
You can get efficient chargers for well under these prices but I also wanted an esthetic match for the display. So, at the least, it had to be black.
~~~~~~~~~~~~~~~~~~~~~~~~~~~~~~~~~~~~~~~~~~~
HARDWARE features include,
JLCPCB production and Assembly of SMT LEDs, resistors, and capacitors
ISP capability with shielded header
8×7 Charlieplex Matrix adapted from Sparkfun's similar device
Custom front and rear, clear, laser-cut and etched, acrylic panels by Brampton's Sawdust & Noise
M3 Black Nylon fastening hardware (Amazon)
SOFTWARE features include,
direct, register-level manipulation of 8 ATtiny84's digital pins to drive the 56 display LEDs in a charlieplexed algorithm
7-channel frequency spectrum readings and display (one per column) from the MSGEQ7
Timer1 Interrupt-driven switching between audio-responsive display and scrolling messaging (currently every 10 minutes)
Watchdog Timer interrupt to control message scroll speed
Character maps read from onboard EEPROM (previously flashed)
DESIGN features include,
PCB outlines based on DDB's dimensions
Onboard 0603 power LED
First RSGC ACES' device example of vertical insertion into USB-A power source
DXF files exported from EAGLE into Adobe Illustrator
Only reversed ACES logo added to EAGLE's export! Simple.
C. D'Arcy. March 2021.