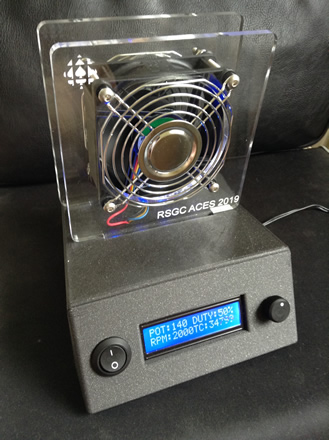 At a point in the Spring of 2019 it was determined that a fitting tribute to the intense AVR Assembly software investigations of the common, 12VDC 4-wire Cooling Fan by the ICS4U ACES would be best served by engineering a compact desktop device for each student to enjoy in his stuffy September dorm room.
Kreher F-A, Mr. Elia, and I quietly partnered in developing 10 units of the device that appears to the right. Click to enlarge. A custom PCB, in-house 3D printed case, a pair of ViaCAD-designed, 1/4" laser cut underlit, acrylic panels and an LCD panel were brought together and driven by the very assembly software the students developed over their final ACES term, confirming its applicability. Click here to see the fans prior to final assembly.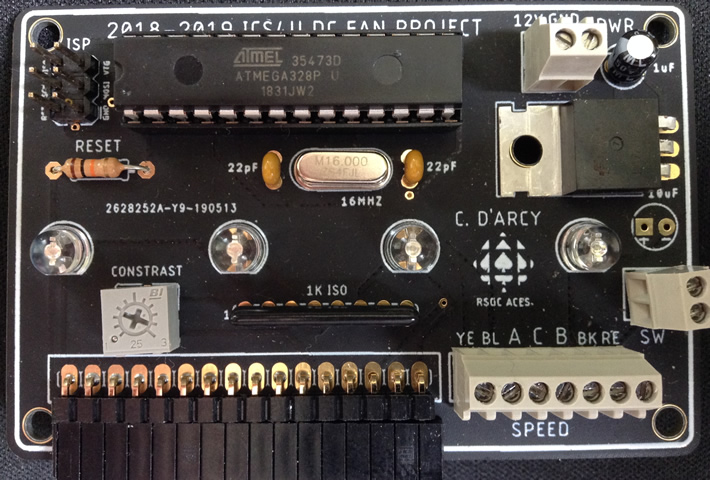 On the last day of classes, an unsuspecting Mr. Elia was presented with his unit at the very moment a large tour of prospective families appeared at the door of the DES making the moment even more special. Well-intentioned ideas often turn out even better than one could have imagined.
The 2018/2019 DC Fan device, along with their many projects and DER, stand as tangible reminders of three productive years for our seven graduating ACES.